Spent the night poring over the SJ script, something I hadn't done for two years, and trying out a variety of screenwriting software and other tools. It's going to be so much work knocking this into shape.
It's meandering, full of subplots and exposition casting light on past events, the minor characters and their relations, and the history of the various factions. While that stuff is nice — there are some genuinely fun and action-packed scenes that I regret having to cut — I decided to take a sharp look at anything that doesn't:
feature Scout, the protagonist
alternatively, feature an impact character (not so many of those)
directly further the plot.
Having to mark some of these characters as "minor" is depressing, because they've been around so long and all have a backstory. Having to remove key scenes that explain how faction X came to be, or how they fought faction Y, hurts as well because these scenes tend to be entertaining and full of action. I like the virtual smell of napalm in the morning and the sound of explosions as much as anyone, but these scenes all lack a key detail – the protagonist.
As such, at least a fifth of the pages need to be cut. 150 pages of script is too much. The program says the script is 180 minutes long, twice the length of a feature film. Now a lot of that is pure action, namely gameplay. Still… I'd like to get that number down.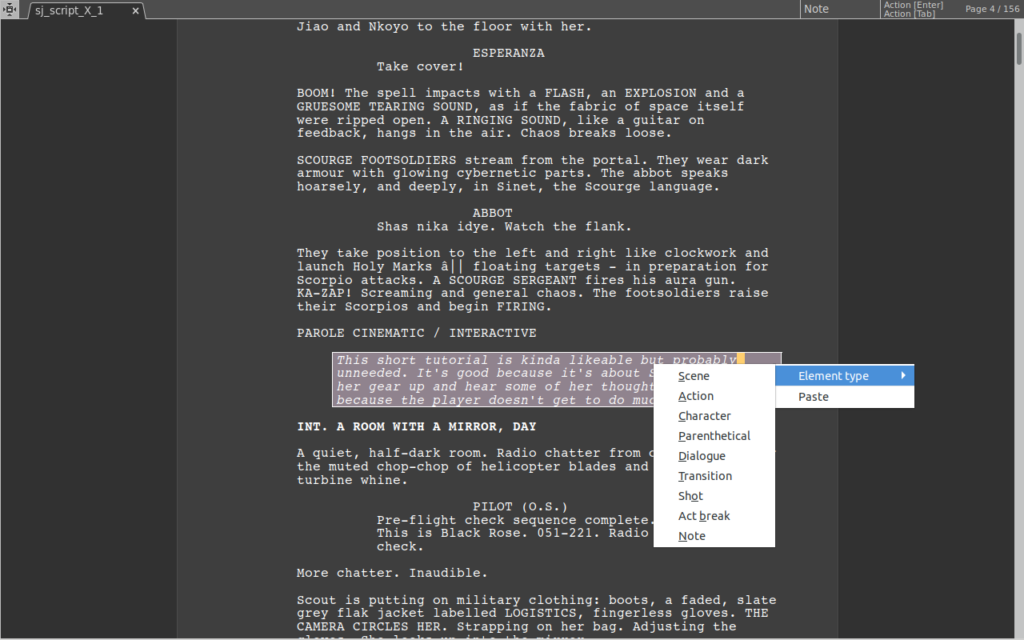 This is one of the screenwriting softwares I'm currently testing. It's not that Libre Office wasn't adequate, but it tempts me to include colours, headlines, and images. That doesn't further the script's readability. A dedicated screenwriter (Trelby is pictured) doesn't let you mess with the layout. It automatically picks the safest choices for you and provides only building blocks such as scene, character, and dialogue.
In Trelby's case, the most common blocks are (mostly correctly) guessed based on what you're writing, or you can press TAB to chose between them. If you need something less common, like a note, there is a popup menu. It goes fullscreen for a distraction-free experience and is very tweakable. A light theme is default, I just changed the colours.
These programs also feature reports and statistics; how many lines of dialogue does a character have? In what sequence do characters appear?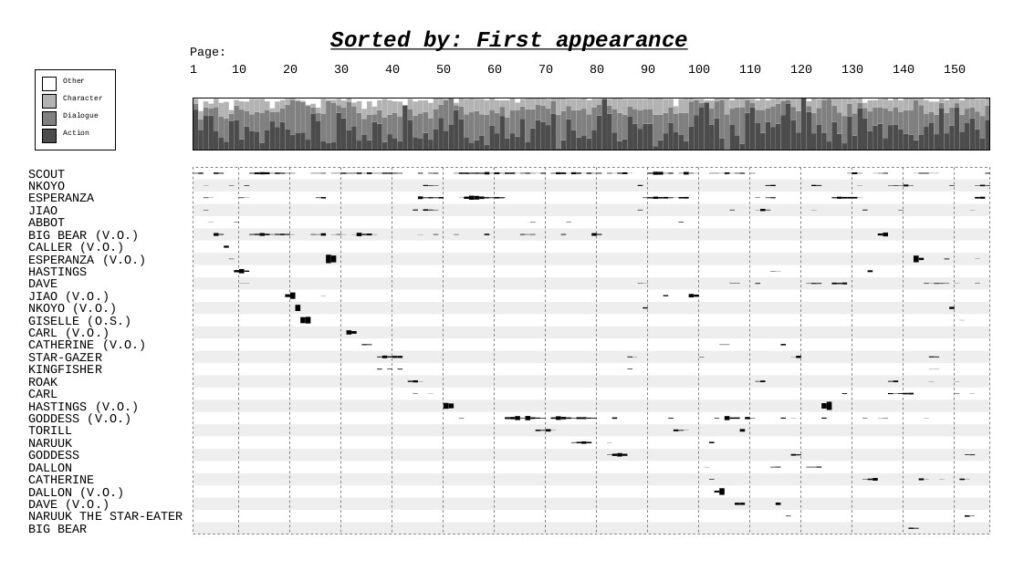 This can be incredibly useful in telling which characters are actually important and what the general flow of your plot is. Notice how Scout, the protagonist, has a line going almost straight through the plot (the topmost one), and how more characters are introduced gradually. (Some are counted twice because lines are marked as (V.O.), meaning the same character speaks from the off.)
Another good free scriptwriting tool is KIT Scenarist. I find Trelby has the edge where usability and simplicity are concerned, though both offer good distraction-free writing experiences. I also checked out Scrivener, a writing tool with many a glowing review, but I found the Windows version lacking and full of clutter. The better features are only available on Mac, and I don't run MacOS.
A nice free tool (well, free in 500-word chunks) is Pro Writing Aid. It checks your text for many style problems (wordiness, passive language etc) in realtime. Very impressive. The full version is 20 bucks a month, which I might cough up at some point, but not yet.
Another helpful writing aid with a Google Docs plugin is SAS Writing Reviser.
One of the surprises about the SJ script is that there are several antagonists, but none of them are very important. Nothing I would call a major character. I guess it's just not about beating the bad guy that much. It's definitely not Batman vs The Joker.
Rather like Voldemort or even Sauron, SJ's big bad is often mentioned but just a little of a douche. He does swing a sword in the endgame, but not to great effect. He looks scary, though. That's where the logo comes from.
It's nice getting back into game dev after all the craziness. It's a lot of work, but work I can enjoy. In fact I'm itching to get things done.
---